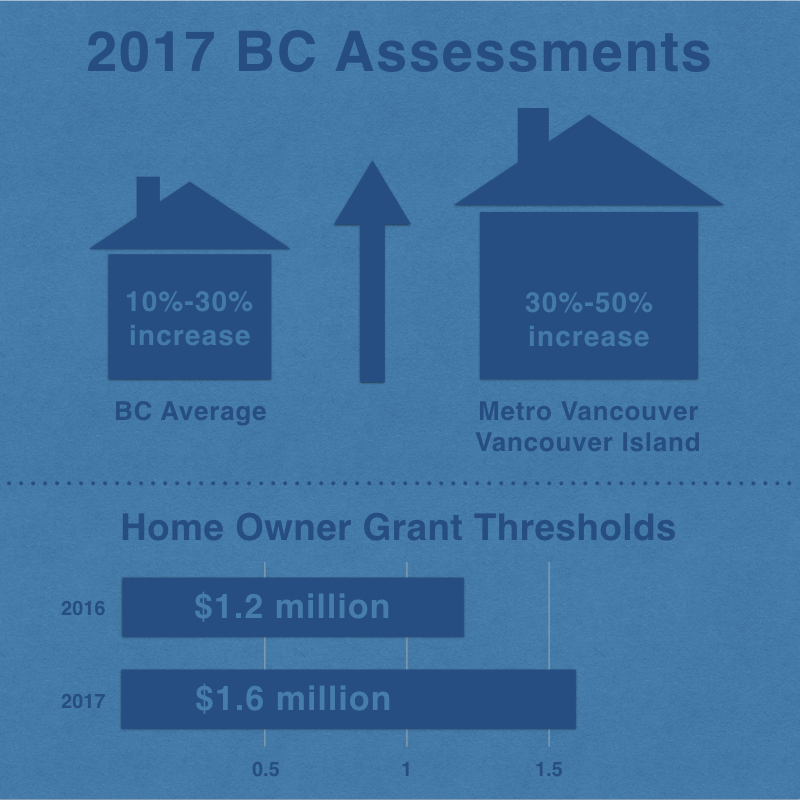 On January 10th, 2017, the BC Government announced it would be raising the BC home owner grant amount to $1.6 million, a 33% increase in the threshold. This is an increase of $400,000 over last year's maximum allowable home owner grant limit of $1.2 million.
This came as a result of many homeowners in British Columbia seeing an average increase of 10 – 30% in their assessed property values. In Metro Vancouver and Vancouver Island many homeowners saw assessed property values rise between 30 – 50% when the numbers were released by BC Assessment (CBC).
These increases in assessed property values meant that many homeowners in the province became ineligible for the BC property tax relief program which previously had a threshold of $1.2 million.
Grant Increase Means Many Homeowners Still Eligible
According to the BC Government, approximately 91% of BC homeowners will now find themselves beneath the threshold, 83% of those property owners are in Metro Vancouver, even though assessed prices for homes there have soared.
The BC Government spent $809 million in 2016-17 on homeowner grants for principal residences and is expected to spend $821 million in 2017-18.
What do these numbers mean for you? The home owner grant program in British Columbia can help eligible homeowners save as much as $570 on property taxes or $770 for Northern or rural areas of the province.
BC Government Now Offering Additional Help for Low Income Households
Low income help is anticipated to benefit some BC homeowners. Along with these announcements it was indicated that individuals with disabilities, seniors, and spouses of veterans are eligible for additional grants as long as the classifications for a low-income household are met.
Is the 2017 BC Home Owner Grant Increase a Help or a Hindrance?
David Eby, MLA for Vancouver, Point Grey (NDP Housing Critic) indicated to the CBC that while the "on-paper wealth of many B.C. homeowners has skyrocketed in recent years along with home prices, so too have taxes and other associated costs. The result, he said, is a lot of financially-strained families who have no way of accessing that value without selling and moving."
For those new to the BC real estate market and options for homeowners, here are some more BC home owner grant FAQ's you may be asking yourself.
What is BC Home Owner Grant?
The BC home owner grant  reduces the amount of property taxes paid by eligibile property owners for their principal residence.
Do I Quality? BC Home Owner Grant Eligibility
Check out the BC Government Home Owner Grant website to see if you qualify. Those eligible for the Home Owner Grant  program in British Columbia can include:
         Homeowners under 65 years of age
         Seniors
         Veterens
         Persons with disabilities
         Persons living with a spouse or relative with a disability
         A spouse or relative of a deceased owner
How Do I Apply for The Home Owner Grant in BC?
If you are interested in the BC home owner grant program you can find information about how to apply here.
You can apply for your home owner grant once you receive your property tax notice which were mailed earlier this month. In order to avoid late payment penalties, your application must be received before the due date for your property taxes.
Note that the BC home owner grant deadline for application is December 31 of the current tax year and you can also claim the home owner grant retroactively for up to one year.
For more information about BC home owner grant rules and how they apply to your specific circumstances, contact Natasha Taylor today at 1-778-316-4290.