Notice
: Uninitialized string offset: 19 in
/home/natashataylor/public_html/wp-content/plugins/fusion-builder/shortcodes/fusion-table.php
on line
119
Cloverdale BC Homes for Sale
Cloverdale BC is a rapidly growing area making Cloverdale an ideal and safe place for real estate investments. Cloverdale has been recognized as the second fastest area of growth in Greater Vancouver Regional District (GVRD) with promising forecasts of rising house prices over the coming years. Cloverdale MLS listings show that many homes for sale in Cloverdale BC are located on quiet inner streets where you may find children playing in the front yard or enjoying road ball hockey. Contact Sutton Real Estate agent Natasha Taylor of the Taylor Team at 1-778-316-4290 to find out more about condos, townhomes and detached homes for sale in Cloverdale, British Columbia.
About The City of
Cloverdale
Cloverdale makes up a decent portion of Surrey but is very different from the typical feel and lifestyle of other parts of Surrey BC. Cloverdale real estate offers a safe place to live and raise a family. There are many great schools, great recreational centres, and plenty of annual events and activities to keep one entertained. Additionally, Cloverdale is home to the renowned Cloverdale Rodeo and Cloverdale Athletic Park. Then there's also The Cloverdale Millennium Amphitheatre, which features special Canada Day celebrations, annual fairs and rides, Cancer Fundraisers (with live bands and concerts), plus many more festive events.
Cloverdale, BC is a quaint town within Surrey and just west of the City of Langley. This historic small town started off as a farming community in the late 1800's due to its fertile land a temperate climate. Nowadays, Cloverdale is one of the most respected cities in Surrey with dozens of heritage buildings, a large film and television scene, and the famous Cloverdale Rodeo, which just so happens to be the fifth largest rodeo in Canada.
Neighborhoods in
Cloverdale
There are plenty of amazing neighborhoods in Cloverdale, each offering a slightly different lifestyle. Whether you're looking for luxurious and modern neighborhoods, or a quiet rancher cul-de-sac, Cloverdale has it all.
Cloverdale has a lot of farmland but to accommodate the growth of the city, Cloverdale opened up some of the land reserves to welcome the construction of numerous new neighborhoods. Because of this, new homes for sale in Cloverdale, BC can be quite affordable when compared to other communities in the Fraser Valley.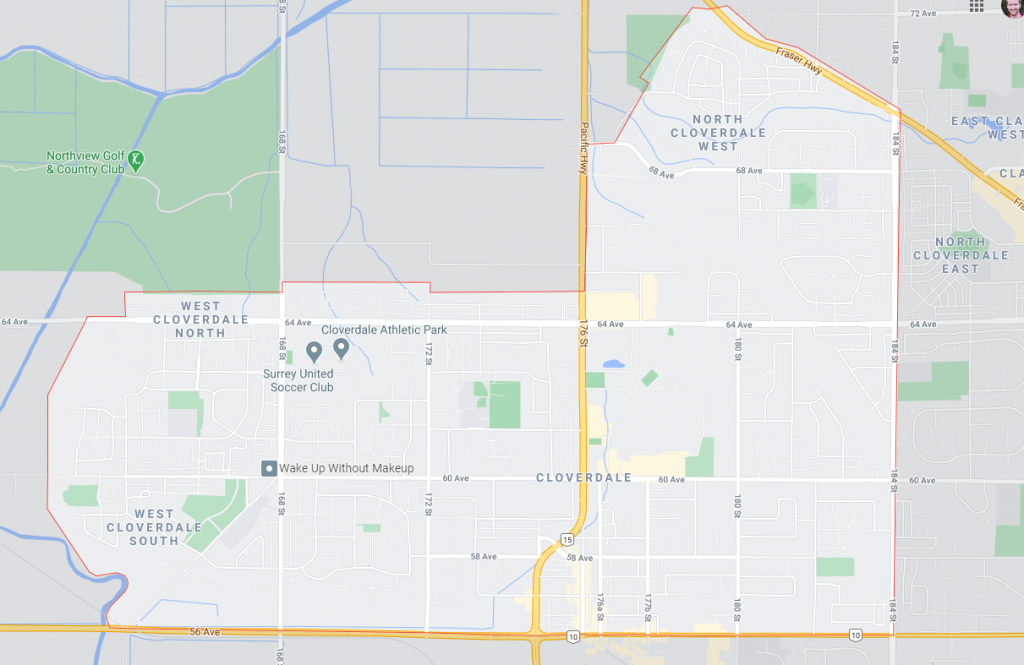 North Cloverdale West

Lord Tweedsmuir

Churchland Park Area

Downtown Cloverdale
West Cloverdale South

Cloverdale Heights
In recent years, the City of Surrey has been working closely with Cloverdale council to further develop the cities amenities. Many of the most respected athletic parks and Recreation Centre's in Surrey are located in Cloverdale.
Economic Stats for
Cloverdale
Whenever you're thinking about purchasing a property, it is worth understanding how the local economy is performing. By having a strong understanding of Cloverdale's economic statistics you will then be able to determine whether the investment is right for you and your family.
Rental Potential in
Cloverdale
Are you a rental property investor searching for your next property? Or even a young family looking to offset the cost our your dream home with a mortgage help? Then you need to understand the common costs and rental rates in Cloverdale.