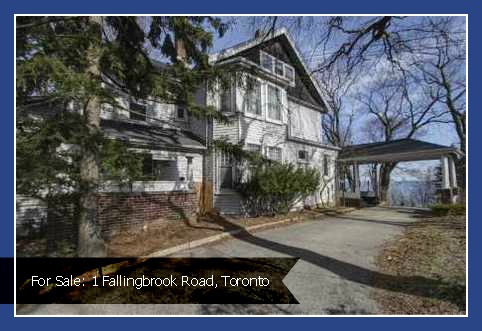 I came across this million dollar house for sale in Toronto that is just one of a dozen homes in Toronto with private waterfront access to Lake Ontario. Check out the MLS listing:
An Exceptionally Rare Opportunity To Own One Of The Most Desired Waterfront Addresses In The Coveted Beach!! Direct Waterfront With Just Over 1 Acre Of Private Estate. Historical Vista With 2 Floor Guest/Nanny House And Pool House. Home Features 7 Bedrooms With 5 Bathrooms, Kosher Kitchen, Butler Pantry, Wrap-Around Porch And Much Much More. $50 Charitable Donation Required/Accepted Prior To Showing Payable To Sick Kids Foundation. Receipt Will Be Provided.
Thanks to its cliff side location this multi million dollar home for sale is supposed to have one of the best views in the city but would you pay $50 just to walk through the home?
The listing real estate agent says this clever marketing tactic is to keep curious neighbors and uninterested buyers from arranging private viewers. So far buyers aren't deterred by the donation which the Real Estate Council of Ontario says is acceptable as long as the donation isn't misleading. The listing agent says the small token donation isn't scary considering that the property taxes on this $5 million property are $25,00 a year!
What is one of the only private waterfront accesses to the 14th largest lakes in the world worth to you?
What would happen if million dollar homes in Langley, Surrey, White Rock or Vancouver for sale started charging its potential buyers a donation fee to view? Would you consider touring a home where you are required to make a donation or payment, or does this turn you away?
I'd love to hear your thoughts!