This week three different articles caught my attention and I thought I'd share them with you.
Canada Real Estate Values January 2013
This short post by CBC News has an interactive map that shows you pricing houses across Canada in January 2013. The National average home is $354,754 while the home for sale in British Columbia averaged $515,357 and home prices in Vancouver averaged $746,585.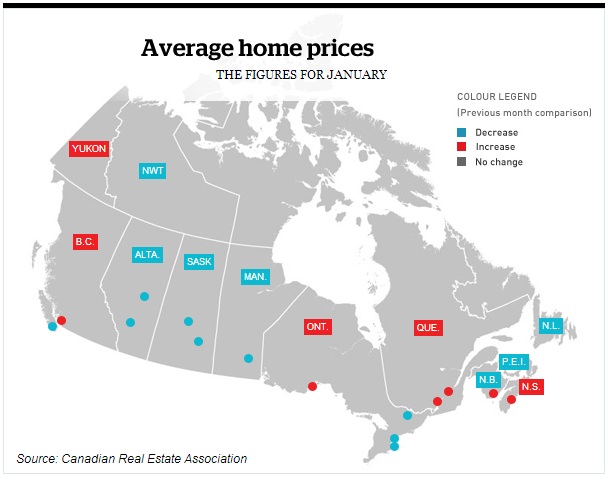 Drop in new listings points to gradual recovery in Vancouver housing
In an article in the Globe and Mail earlier this week our B.C. Real Estate Association Chief Economist Cameron Muir said that,
"A reduction in fresh listings should set the stage for a gradual recovery in Greater Vancouver's housing market."
Muir goes on to share that:
Compared to January 2012, we see a fall in new residential listings of 10.9% but there still remains a backlog of active listings that will take time to clear out before we see the Vancouver real estate market regain balance.

Prices in Greater Vancouver and the Fraser Valley, which includes Surrey real estate, have fallen only a relatively small amount considering the steep drop in sales.

This Spring consumers will begin to realize that prices have not dropped substantially and will probably get back into the market.

The forecast for 2013 is a 'soft landing with slightly lower prices on average before prices climb modestly in 2014'. 
$38M West Vancouver Tear-Down mansion
The Province's Real Estate section posted this human interest piece tells the story of a rundown mansion sitting on some of the most expensive property in Vacouver's West side.
Listed at $37.9 million this is the second most expensive mansion to ever be listed in Canada. In 2011 this property was listed at $30 million but now that there is potential to subdivide this waterfront property on Marine Drive into three parcels of land the asking price has gone up.
If money were no object for you how would you feel about paying nearly $38 million for a home that was built in 1964 and only has an assessed value of $6.7 million? Sure the house has gold accents but it's most valuable feature is the land it's sitting on and its incredible view. With 12-foot windows and 400 feet of ocean frontage the home was originally built by a shipping magnate who likely watched ships coming in and out of the Burrard Inlet.  From the article my impression is that the sellers are hoping that the buyer will be able to see the potential of living in the home for a long time. With its potential to subdivide I'm not sure this will happen.
Have you come across any additional real estate news this week that caught you attention? I'd love for you to share it with me. Call or text me at 778-316-4290 or email me at ntaylor@sutton.com.